Aug 19th was our final prayer, organization, and study meeting. We are officially a class now and only have training to complete both local and CBS HQ.
Aug 24th and Aug 30th is the local training for all the Leadership Council
Nov 9th - 11th is the CBS HQ training for the Servants Team of our class.
September 9th will begin our study in:
Solomon's Wisdom a 12 Lesson study.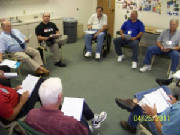 Here is a typical setting of some members enjoying a good discussion in a Core Group while going over the week's lesson.